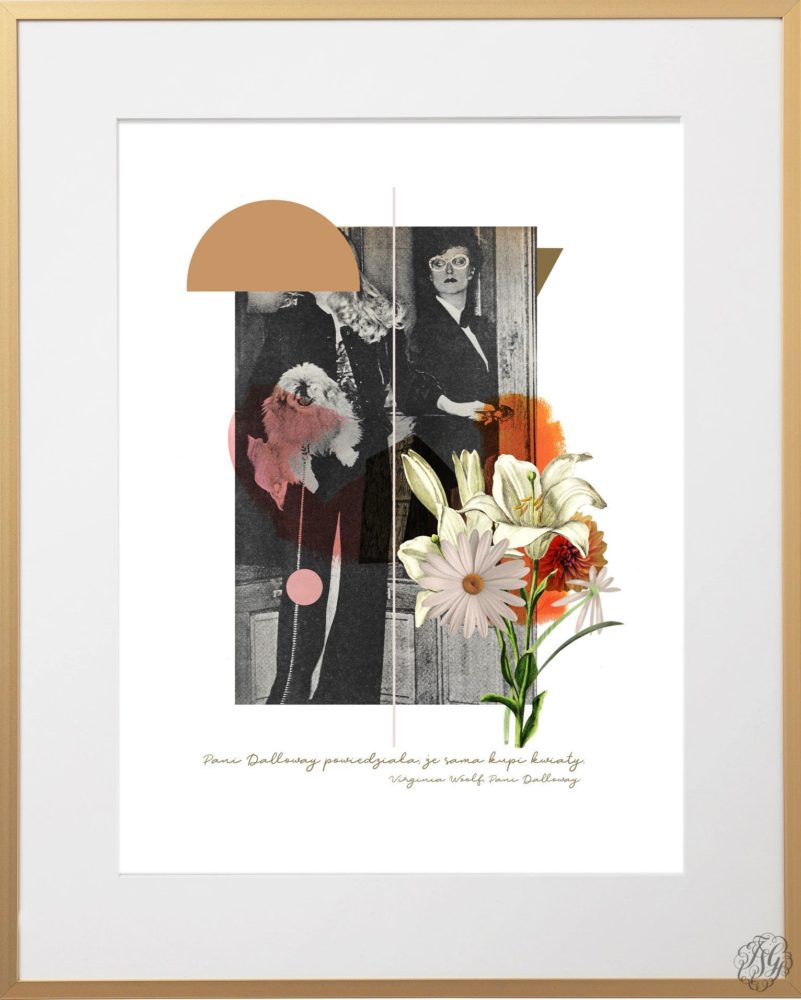 Mrs. Dalloway said she would buy the flowers herself
Price: 150 zł
Graphics: "Mrs. Dalloway said she would buy the flowers herself"
– Inspired by a quote from Virgini Woolf's novel "Mrs. Dalloway".
In my opinion, this sentence contains a lot of truth about the nature of women.
It is a kind of manifesto about women's self-determination and going beyond the usual patterns.
My digital artwork is unique, each print is hand-finished with paint or watercolor and crayons. Collage framed and ready to hang on the wall – version with gold, aluminum frame. Each work is signed and stamped with an original sign. Cream-colored Passepartout. Graphics will be a great complement to both an elegant interior and an eclectic one with vintage elements. Work will certainly be a beautiful and original gift.
Format:
32 x 44 cm graphic.
Passe-partout, cutout width: 29 cm
Passe-partout, cutout height: 39 cm
Frame width: 40.5 cm
Frame height: 50.5 cm
Printing: pigment printing on paper type: Accademia 200 grams
Frame: aluminum, gold color
Front: anti-reflective plexiglass
Passepartout: coated paper
Back panel: Fibreboard
Shipping to Poland PLN 15
Foreign shipment is calculated individually – please contact by mail shop@styrylska.com
If you are going to buy the work, click the "Buy now" button below and fill out the contact form. Then wait for my reply.